Thursday, May 25, 2006
New project
Here's Seran as a mummy in our play: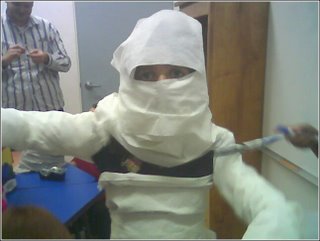 Well I finished a teacher gift! Today was the last day of school and I only finished 1 out of 3 :>/ I feel really bad about not getting all 3 done but I was lucky to get the one done, and it was for a very special teacher. Here's the update photo of it, not the finished one I took this morning:
Comments:
Hi Tracy! Mr. Tamarack here...
I like your blog page! I've never really looked at blogs, and I didnt' realize they were so fancy! You have tons of AMAZING stuff that you have done!
Well, it's good to see the kids having so much fun during the summer! That's the time to do it, when there is no school to bore things up...
If you get a chance, tell Seran that the plant she gave me is still alive and thriving!! And tell Bryce that I hope he is practicing the drums every day... remember: parradiddles!!
Ok, well have a nice time. I'll check in again!
-Tamarack
Post a Comment
Subscribe to Post Comments [Atom]
<< Home
Subscribe to Posts [Atom]