Wednesday, March 29, 2006
Land That I Love framed
Finally framed last night and photoed. I really like the variation in the fabric color,
it really sets everything off. Stitched on 36ct. Vintage Aqua from Lakeside Linen using Weeks and GASt threads and framed in a WNC frame (now Nice Frames, I believe).
Today is not so good, DH's truck was stolen out of our driveway overnight...
Friday, March 24, 2006
Frames etc.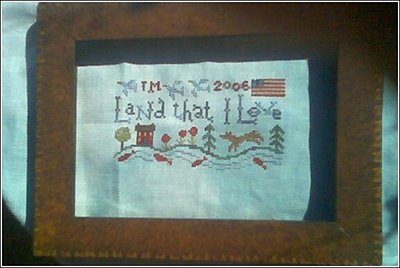 So this is the frame I was hoping would fit, I have several in various sizes but this was the one that was supposed to work. It is too big IMHO, so I grabbed a different one that looks good with it. Did not have time to actually frame it this morning though. Too bad this didn't work, love these frames!!! Oh well, eventually something will fit it!
I kitted up a new project last night by Notforgotten Farm called seek Joy. I am using a Silkweaver solo and Vicki Clayton silks, I think. The solo is just the slightest bit too orange for my taste, and I really wanted to use Sugar Maple Golden Turret but can't seem to find any in my stash even though I believe I have quite a bit of it. I didn't start it yet so we'll see what fabric I use. It's supposed to be about 11" x 11" but I don't think it will take too long as there's not much to fill in. I would like to stick it on my living room wall, not only will it fill up space and match the decor but I happen to have a large key randomly hanging in there so the key in this will tie my random key in ;o)
I believe it used to be at this freebie site but I don't see it any longer:
There are some really cute freebies here still, so check it out if you haven't seen it. Also the LE 498 booklet for charity (top of the page at that link) is filled with gorgeous designs, well worth the donation to get the book. That was my Christmas stash to myself this past xmas.
Have a meeting after work today with a new book-keeping client, and I start my job as web person extraordinaire tonight. No plans for the weekend except cleaning, cleaning, cleaning, working, with some yardwork and perhaps swimming on the side!
Thursday, March 23, 2006
Finished, I think?
Hot off the q-snaps! This morning I woke up early and being wide awakw foe once did a bit of stitching and catching up on TV viewing. Can't believe I am done, this turned out very nicely but I didn't really enjoy stitching it. I'm starting to think that things that have sat in my wishlist for a long time are so boring to stitch because I've seen them so often, or perhaps for so long that I'm impatient to simply be done with them and move on. I must say I enjoy the colors together very much, especially on this fabric (which is a relief, I was a bit worried). There is supposed to be a border on top, and the words "United States of America" on the bottom along with a border but I rather like it just like this. Wish I had had enough time to see if it fits the frame I have been picturing it in, will have to wait till much later for that :P I have decided that dog is a coyote, he's just the right color and shape.
So, can anyone guess what I am going to say next?
Now what to stitch????
lol
My oldest son mentioned this morning the hot wheels race car I have been saying I'll stitch since he was 3 yrs. old (8 years ago) so perhaps I should get that out. Or worse, finish a UFO :P Hmmmm, decisions, decisions...Maybe Nautical Fence?? I'd love to dress the bathroom up more plus it's fun and summery. Also have a magazine flag pattern in my drawer (I think by Heron House) I was toying with starting, and I really do need to do a small thank you for the company in Ireland that made our wedding rings on such short notice (twice!). However, this morning I was contemplating new design releases and may have to stitch a few new models instead. Argh! Perhaps I should take a poll and have people who read this decide??? LOL
On an unrelated note, I love Vicki Clayton's silks and used to buy there frequently till she changed her host/cart and now I can never get registered with the system which is the only way to buy!! ARGH! I keep registering and waiting to receive an email confirmation, but something always happens. I shall email Vicki one of these days directly so I can buy, there are quite a few silk conversion packs for the designs on my goal list that I need!!!!
Tuesday, March 21, 2006
New improved goal list
is now in the sidebar. I plan to link to an entry that will have more specifics including size, fabric, threads, stitched image, any WIP photos, and will also log stitching hours. We'll see how that goes! I really want to get my UFOs done, I've never been comfortable having unfinished business.

Today is DH's b-day so no stitching or office cleaning is on the agenda. Then tomorrow is cub scouts so it should be plenty busy then as well. Wish I could take Thursday off and try to get things done :P Also wish I had time to finish off Land of the Free. Oh well, it's been in my pile for several years, a few more days (weeks??) won't hurt!

Monday, March 20, 2006
Argh!
Well I was so proud, I made a goal list, stuck it into the template here and tweaked it till it looked right, then somehow managed not to save it correctly so it's not here!!! Now I have to figure out all over again what I had it all whittled down to, grrrr.

I think I'm almost done going through all my back magazine issues and making working copies of projects I *have* to do. Yes, this is an exercise in futility, but it's been a fun diversion and made a big mess to put away, all at the same time so I'm killing the entire flock of birds with one stone (and that's probably what it looks like around my house, lol).

I have found out some changes will be coming soon (this week) to my home office, I will have to find housing for a new (to me) computer for the web tech stuff I've started doing. By now you are probably familiar with hearing me say (every weekend, no doubt), I will get my office cleaned up and organized. Well, now I *really* have to do that, and ASAP! I spent most of my weekend cleaning up from the multiple toilet overflows, the rest we spent on scrubbing signs and painting over grafitti, then yardwork while the weather was so good (and the brush and bulky semi-annual collection is next week). I did manage to do some filing (ok, re-filing after my last employee made a wreck of things) at least, as well as a bit of stitching last night. Land That I Love needs the dog (coyote?), about half the water, and the flag finished, and then I think I'll be done? Truthfully it calls for a border as well as more wording but I'm liking it without those, especially if it will fit in the frame I have without them. I really like the colors on this vintage aqua fabric, it really all works together nicely. I keep meaning to take a WIP photo but haven't had a chance. Soon I hope, along with a pic from the graffiti clean-up perhaps...

Friday, March 17, 2006
I'm going to do it...
I'm biting the bullet and I am going to set goals, by golly! Now if only I could decide what to put on my list...hmmm. I guess they are only goals, right? It can be a ridiculously long list and I won't be expected to finish it this year, right? And I can find something not on the list and stitch it instead, right? There are no rules to this goal-setting, right??????? LOL

Not much on the stitching front, I've spent most nights going to be early, it's been one of those weeks---

Signs your week can only go downhill:

-Your son breaks off the key to your vehicle in the door lock

-You lose a large check and can't find it no matter what

-Your toilet overflows and keeps overflowing, not once but twice, the second time no one was home and the ensuing lake (of toilet water, no less) soaks your bedsprings and mattress, comforter, books that were stacked by the bedroom bookshelf, clothes, etc. etc.

-Your son is failing math

-Several people pick this week to advise you on your personal life and commitments (or rather, according to them, my OVER-commitments)

I could go on but I will spare you ;o) And yes, no one in my house is starving, we have a roof over our heads, jobs, general good health, etc. So even as I complain I am trying to count my blessings!

I was hoping to bake St. Patty's day cookies with the kids tonight but will more than likely have to try to do damage control on the wet bedroom instead. Calgon take me away!!!!!!!

Tuesday, March 14, 2006
What do you think?
Been developing my html skills as well as trying to jazz the place up a bit..like it? Dislike it? Too busy? A few tweaks still to make but I think the main idea is here.

Not much to report on stitching. I started a mini-ornie yesterday afternoon while waiting for the kids, and I did an "a" and "t" on Land That I Love, lol. Was very bad last night and sat in bed stitching, eating, and watching TV with no regard to any chores to be done!

Monday, March 13, 2006
Carre Fleuri finished
I had taken a different photo but this one shows the colors and flowers much more clearly. This is a freebie from Anne Les Petites de Croix called Carre Fleuri (Flowered Square). I used 40ct. Vintage Aqua Lakeside Linen over one count with GAST threads. I made the tassels myself using the green and pink GAST I stitched the design with. Even by hand sewing I must say the little pillow didn't turn out too badly. I filled it with little pebbles and it has a nice weight to it.
I spent most of the weekend in Phoenix so that Watty could have her eye removed. I got a bit of stitching done on my Land of the Free, not nearly as much as I would like. Perhaps by looking at this one for so long I'm already bored by it? Or maybe I need a few really small projects to make me feel like I'm accomplishing something? I did finally get Hoffman's my newest releases as well as change my leaflet style and make them more marketable--they are now being professionally printed rather than having the photos glued to each one. Quite a bit more money goes to the printer now but I think it will be quite worth it, or I hope so!
Watty opened up some of her stitches this morning and it's been a real nightmare, no one will see her but the vet opthamologist and he is voicing many concerns and talking about more treatments which is ridiculous since there is no longer an eye!!! I'm really frustrated, the dog situation seems never-ending. I came home so relaxed because it was all over and the dog was healing so well, and now here I am crabby and stressed again :P Only help for that is stitching, right???
Tuesday, March 07, 2006
Another weekend come & gone...
and no closer to getting much of anything accomplished! I did unearth the laundry room floor a bit though. I got to attend a tour of the cemetary which was neat, people dressed up as the person we were "visiting" and told about "their" life. We held our scout Pinewood Derby clinic which was attended only by my family (LOL). We still had fun, got our cars close to finished, and didn't make a mess at home since we had it at the church.
This is Seri on her fieldtrip last friday to the AZ Historical Museum where she got to dress up a bit.
I did a bit of stitching on Land That I Love, enough to be annoyed that this is such a small piece and it seems like it will take a long time! I was going to try to finish off the floral freebie last night but was too tired, ended up crashing several hours before bedtime and then having the worst night's sleep ever (too hot, dogs/kids kept waking up, etc.). I was going to start a new tiny lunch project but I couldn't find just the fabric or threads I wanted so I will leave that till tomorrow. Decided to start finishing off the freebie instead and made up my own cheater version of handmade tassels which I think look the same as more complicated ones (see terrible photo below). Then I cut the fabric down and started hemming for a pillow, let's hope I'm getting better at this process!
Lots to do tonight especially on a Hoffman's order and perhaps a new release that I've left almost too long. It would be nice to finish off the little floral freebie tonight as well, we'll see!
Friday, March 03, 2006
Floral freebie!
I was going to title this blog entry as finished but I never count my projects as actually done until they are framed/pillowed/whatever. Official finishing should take place this weekend I hope! Still not sure what to make it or whether to add a button, guess it will be a surprise. I stitched on it late last night for a bit and then finished it while waiting in my daughter's classroom this morning to go on a fieldtrip. We went to the Arizona Historical Society on the city bus, what a neat place!!
Started work on the garage last night, got a good dent into it. Rewarded myself by looking through all the stitching magazines I found while cleaning. If anyone wants to come help, my garage is a treasure trove of stash, stash, everywhere! Hoping to find some forgotten goodies this weekend! Also have the cub scout pinewood derby car clinic tomorrow to help the boys finish up their car before next Saturday's race. This should be amusing, even with having my boys in scouts for the last 3 years I had no idea the car kits come with blocks of wood rather than in a ready-made car shape *hanging head in giggling shame* Good thing I will have John who has built cars before as well as my dad, my son, and hopefully other well qualified adults. I think the girls should get to do derby cars as well, after all, having no experience is surely detrimental to all those moms out there ;l)
I'm going to attempt to make some headway on Land That I Love, wish me luck! Happy weekend everyone!
Thursday, March 02, 2006
Stitching Goal update
Ok, I saw this on another blog and thought it was a super idea--if I could think of whose it was I'd post the name so they'd get credit. Maybe this will help me get on track???

Jan/February summary:

Finishes: 0!!!!

WIPS progressed: 0

New starts: 2 (flower square freebie, Land That I Love)

March plans:

Must stitch: a thank you gift for the company that made our wedding rings?

Would like to stitch: everything in my to-do pile!! Um......yikes, I have so many floating in my mind!! Can't decide...

Would like to finish: the flower square freebie, Land That I Love, an xmas ornie

Would like to make progress on: finding a large project to stitch and starting it, or even nailing down what project I want to do next

Am I done?
Will I ever ever ever be done?? Someone made the comment for as tiny as this is (about 2 inches long/wide) it sure is taking a long time. I know it's partly because it's over one on 40ct. and partly because I only get abt. 30 minutes a day on it but it seems to be taking so long, especially when up until Xmas I had a finish every week it seemed like. I definitely won't be finishing tomorrow unless I work on it tonight, which is so tempting! Doubt I will have the time though.
I stayed up half the night last night wrapping up that book-keeping account and making a big mess in the process. I found some great stuff on my desk though! I am so tired now, I doubt I'll accomplish much of anything tonight but I'm going to try. I'd *like* to input some of my new stash into the spreadsheet and dig into the huge stack of magazines I found in the garage last night but I will try to be more useful and clean my office and the garage instead. Nobody hold their breath, I think I've mentioned neither of those places have had a floor for about 2 years! I can't figure out whether to do the garage first or the office, sorta like the chicken/egg conundrum. A lot of my stuff in the office needs to go in the garage but there's no place to put anything because it's such a mess, and vice versa, lol. Perhaps we should just move???? I really think I have too much stash!!
On the up side, I did manage to make working copies of the projects I *must* stitch from some mags (not all yet). I have designated several of them as lunch projects since they are small and should be much quicker than what I am working on now. Geesh, if I don't have the patience for this one can you imagine me trying to do a really big project??? LOL
Wednesday, March 01, 2006
Started something new
FINALLY! This has been on my to-do list for awhile, I might even have the right frame to fit it (I want the one in the pic). I got a few stitches in last night while waiting to give blood. Not much chance for stitching tonight, it's tutoring at the kids' school then scouts, followed by bedtime routines for the kids and then food, meds/treatment for the doggies. At that point if I haven't fallen into bed exhausted I've got to get one of my book-keeping account wrapped up since I fired them--no money in the world was worth dealing with them, no matter how many vet bills roll in!
Progress done on my flowers today, finished the entire vine all the way around except for one flower stem that extends inward. I've run out of green, have to find where I put the rest or see if I can fudge a bit somehow.
Subscribe to Posts [Atom]