Friday, May 26, 2006
A Finish! Teacher Gift
Wow, look at this, I finished something! Took me only a few days! I didn't have time to do BC's Teacher Row so I used some of the motifs & alphabet, plus a few of my own, to come up with the teacher's name. He called me today to tell me how much he appreciated it. I used to sit after school and stitch while the kids did various activities and he was always very interested in my stitching so I figured he would like a stitched gift even though I didn't really have time to do one. He was a really good teacher and friend to the kids and we will miss him a lot!
I was uploading this photo to my various albums and realized I have only finished 3 (small!) things this so far in 2006! Is that possible??? I am so discouraged!
This weekend we go to scout camp where I will be kitchen staff, bartering my services for a tuition free trip for our family (it's family camp). I doubt I will do any of it but I will be ambitious and bring my stitching, just in case! We get back Monday morning (or Sunday night if we don't get a cabin and my back hurts as much as it did last time) and then Monday afternoon is my last day at my "real" job :/ Tuesday & Wednesday are back to scout camp!
Thursday, May 25, 2006
New project
Here's Seran as a mummy in our play: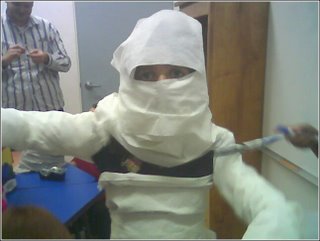 Well I finished a teacher gift! Today was the last day of school and I only finished 1 out of 3 :>/ I feel really bad about not getting all 3 done but I was lucky to get the one done, and it was for a very special teacher. Here's the update photo of it, not the finished one I took this morning:
Tuesday, May 16, 2006
SAL Doomed??
Well folks, Saturday night I was tired and in the mood for some stitching. I had hunted up yet more fabric for the Merry Cox SAL (after losing the first piece), assembled needles and scissors, had the threads finally, and sat down to watch TV and stitch a bit. But where is the (working copy) pattern? you may ask. Nowhere to be found! Nor is the magazine anywhere either! I tore the house apart, the car, everywhere and it is gone without a trace. After waiting so long for the threads, losing the fabric, and now finally losing the threads I am wondering if I should be participating at all!!! Geeesh, lol!

Practical Joke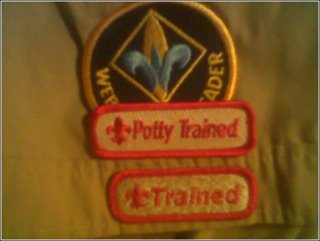 I did waste a few moments Sunday evening on a practical joke for my son Bryce. As many of you can identify with, my tween has been getting too big for his britches these days! As such, I felt this was only fair and fun retaliation. Perhaps he will realize mother is still an entity to respect even if I am shorter than him now!
This is his scout shirt. Since he has grown so much he was recently given an adult's hand-me-down so the adult patches are still on it. I do plan to take them off but thought I would substitute the "Potty Trained" patch into the place of the "Trained" patch and see how long it takes for someone to notice! Should be fun!
Graduated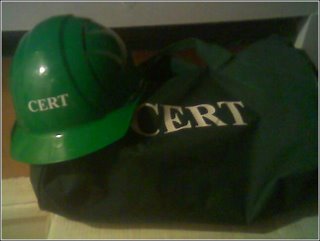 This weekend I graduated from the Community Emergency Response Team training I took with my son Bryce. We got these great bags with lots of useful disaster supplies in them, I particularly like the hat. My DH says they left a few letters off (I believe he thinks it should say "certifiable").
Weekend in pics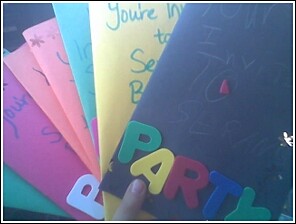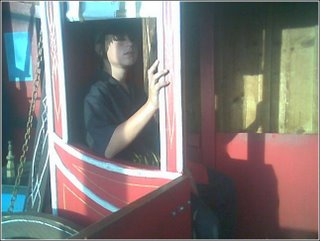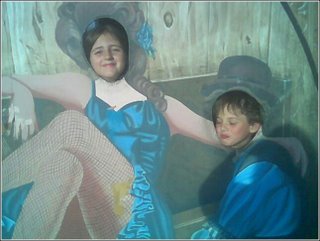 A few random photos from the weekend:
Pics of the kids outside of the local dinner theater/comedy club. Bryce has to show you how "cool" he is.
Photo of Seri's birthday invitations she made herself, I think they are so cute and creative!
Friday, May 12, 2006
Progress!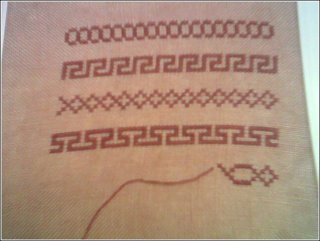 Progress, such as it is, on Patriotic Borders. I got about 20 minutes in, at least I'm done with the top 4 borders now. I didn't get to even think of stitching on the Merry Cox SAL last night, my lovely threads didn't make it out of the plastic bag :/
Forgot to say that of the threads below, the pinks are for the SAL, then one bag is for the PA German Sewing chest pictured a week or so ago, and the other bag is the conversion for CHS Wild Roses so I can start them whenever I want (LOL, at this rate it will be never!).
Thursday, May 11, 2006
SAL stash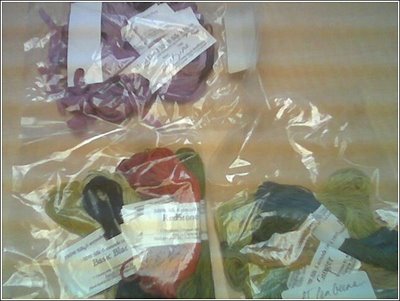 My Merry Cox SAL stash finally arrived! It wasn't Vicki's @ Hand Dyed Fibers fault, it sat at the post office in Denver for a few days according to the tracking info. Maybe tonight I can get a start in on it, we'll see!!
Tuesday, May 09, 2006
WIP/Blog updates
So here is the newest pic of Patriotic Borders after stitching on it yesterday afternoon. No work done today :/ As you can see I posted a photo of Nautical Fence above, not much done so far.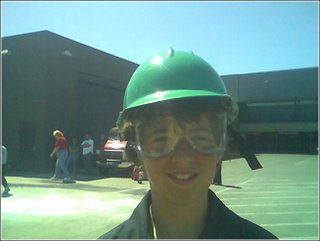 Here are some pics of our CERT training last weekend.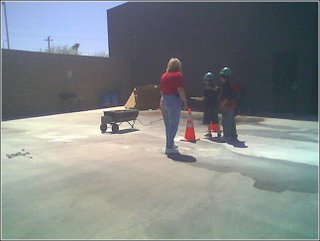 Nothing on the stitching or working front last night as we went out to dinner with DH's aunt who is visiting. Tonight is a free night so I hope I have the energy tostitch and clean and simply enjoy the evening! Cross your fingers that my Merry Cox SAL threads/ribbons will arrive today so I can start on that. So far no one is too far ahead of me so maybe I can keep up!
Monday, May 08, 2006
The Freedom!
Today I resigned finally! By June I hope to be down to designing, book-keeping, and web mastering only, and working from home! The relief of it all is immense and so rewarding.

This month is a really crazy month, with several scout camps and several more fieldtrips, teacher gifts to be made, my SAL that the threads STILL have not come for (!!!), my house being a disaster, and the Community Emergency Response Team (CERT) training I have been taking. I took my son to CERT with me this weekend and we put out fires together as well as learned quite a bit of life-saving first aid and medical info. I do have pics but need to upload them. I realized that last week I spent 4 nights in a row eating in my car, and Saturday night was the first night I was able to go home and relax since Tuesday night. Every other night we got home after bedtime and went straight to bed. The kids have once again graduated Children of Divorce Recovery, and bowling class has it's last week this week so there's a relief off of me. After-school tutoring seems to be winding down and I heard there's no more scheduled so that will be nice. We still have the play we're doing for Odyssey of the Mind but we only have the next two Tuesdays and Thursdays. So if I can make it through May I think June will feel like a cake walk---no school drop-off, no actually going to work, just home home home! Of course, there's still so much work to be done but at least I won't be every which way all day long.

I did get to stitch on Heron House Patriotic Borders today and managed to stitch the third border and almost half-way finish the 4th border. Last night I watched Desperate Housewives and did the red on the pole for Nautical Row. I didn't get pics, hope to have some soon. Unfortunately I now need to abandon these for teacher gifts, and get started on the Merry Cox SAL as soon as my silks from VC come. I got the dyed ribbon from there as well so this should be a really pretty finished piece, even if at this point I can't even get it started!!!

Tuesday, May 02, 2006
new goodies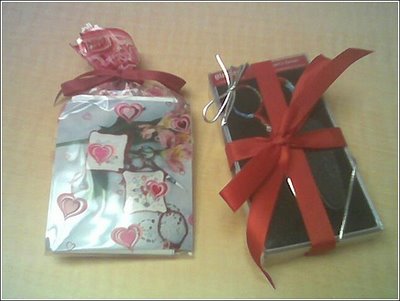 My long awaited SB things have come. I got the 2006 fob and because I am a sucker for all things scissors I got the engraved gingher scissors (Sophia, I think) that go along with it. I really want to rip it open and get it started, so little and cute!! Their packaging is so nice I didn't want to open the scissors but I had to. You can barely see the year engraved in this photo, the other side is engraved with "Shepherd's Bush." Very pretty!!
I managed to get the silks and ribbons ordered that I need for the Merry Cox SAL that started yesterday. As usual, a day late and a dollar short but I'm working on it! I have several fabby picked out, went to hunt them up for a photo and not sure where they went to, grrrrrrrrrr!!! I did get my working copy of the chart made at least, so that's some progress right?? I would really like to at least get a few stitches in tonight with the supplies I have for it already. Haven't had time to go check Dani's, etc. to see how everyone else is doing.
Haven't taken pics of my new stash yet, spent the entire weekend cleaning except Sunday night when I could have been stitching but instead couldn't settle down to anything. I did manage to find my See Joy chart (!) so I can try to get moving on that. Don't have much motivation for anything, but every time I found a chart while cleaning I wanted to put it in the "to do next pile", LOL!!! Must be the weather or the mood I'm in. On the good side the house looks inhabitable once more and I might even have pics to share someday soonish.

April Summary
April plans---
Must stitch:
a gift for John's aunt's friend
not needed
models for a new release?
not needed, models not even charted
thank you gift for wedding ring place?
not started
Would like to stitch: Quaker 6 Mystery SAL (not going to happen!), something SB
not done
Would like to finish: Seek Joy, Patriotic Borders, a UFO (have to find one first!)
barely touched SJ and PB, did find Angus WIP and car WIP now need patterns
Would like to make progress on: figure out what big project to and start assembling stuff for it
not done
April
New finishes: 0
WIPS progressed: frogged about 6 stitches in EM Amber Waves Welcome
May plans---
Must stitch: 3 teacher gifts
model for new release?
thank you for wedding ring place?
SAL: Needleroll
Merry Cox Her Needles Kept Safely
Would like to stitch: Just about everything I see these days!
Would like to finish: Seek Joy, Patriotic Borders
Would like to make progress on: finding all my UFOs to finish or give away
Subscribe to Posts [Atom]