Friday, May 12, 2006
Progress!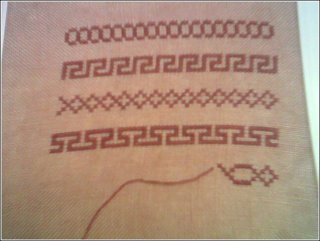 Progress, such as it is, on Patriotic Borders. I got about 20 minutes in, at least I'm done with the top 4 borders now. I didn't get to even think of stitching on the Merry Cox SAL last night, my lovely threads didn't make it out of the plastic bag :/
Forgot to say that of the threads below, the pinks are for the SAL, then one bag is for the PA German Sewing chest pictured a week or so ago, and the other bag is the conversion for CHS Wild Roses so I can start them whenever I want (LOL, at this rate it will be never!).
Subscribe to Posts [Atom]