Friday, March 24, 2006
Frames etc.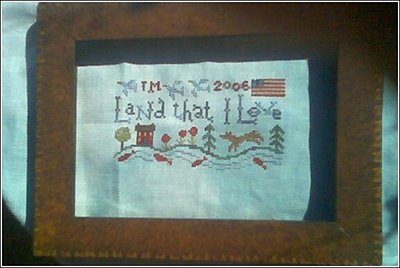 So this is the frame I was hoping would fit, I have several in various sizes but this was the one that was supposed to work. It is too big IMHO, so I grabbed a different one that looks good with it. Did not have time to actually frame it this morning though. Too bad this didn't work, love these frames!!! Oh well, eventually something will fit it!
I kitted up a new project last night by Notforgotten Farm called seek Joy. I am using a Silkweaver solo and Vicki Clayton silks, I think. The solo is just the slightest bit too orange for my taste, and I really wanted to use Sugar Maple Golden Turret but can't seem to find any in my stash even though I believe I have quite a bit of it. I didn't start it yet so we'll see what fabric I use. It's supposed to be about 11" x 11" but I don't think it will take too long as there's not much to fill in. I would like to stick it on my living room wall, not only will it fill up space and match the decor but I happen to have a large key randomly hanging in there so the key in this will tie my random key in ;o)
I believe it used to be at this freebie site but I don't see it any longer:
There are some really cute freebies here still, so check it out if you haven't seen it. Also the LE 498 booklet for charity (top of the page at that link) is filled with gorgeous designs, well worth the donation to get the book. That was my Christmas stash to myself this past xmas.
Have a meeting after work today with a new book-keeping client, and I start my job as web person extraordinaire tonight. No plans for the weekend except cleaning, cleaning, cleaning, working, with some yardwork and perhaps swimming on the side!
Subscribe to Posts [Atom]